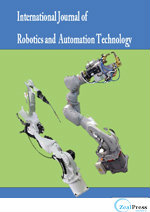 Editor in Chief : Hongbo Guo
Abbreviated key title: Int. J. Robot. Autom.
Technol.ISSN (online): 2409-9694
Access: Open Access
Periodicity: Continous
Publishing Since: 2014
Publisher: Zealpress
Contact: info@zealpress.com
Aim & Scope:
International Journal of Robotics and Automation Technology providing a platform to researchers, scientists, engineers, and practitioners throughout the world to publish the most up-to-date accomplishment, upcoming challenges, and thrilling applications in the field of Robotics and Automation Technology.
This technology deals with the design, construction, operation, and application of robots as well as control systems for operating equipment such as machinery, processes in factories, boilers, and heat treating ovens, switching in telephone networks, steering, and stabilization of ships or aircraft and other applications with minimal or reduced human intervention.
Areas of interest are:
Medical Robotics
Micro/Nano Robotics
Robot Manipulation and Control
Robot Sensors
Mobile Robots and Multi-Robot Systems
Bioinspired Robotics
Automated Retail
Automated Mining
Automated Highway systems
Automated Waste Management
Home Automation
Industrial Automation
Humanoid Robotics
We published research works in the mode of original research articles, reviews, short communications and case reports.