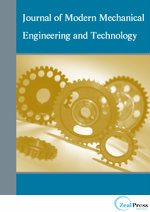 Editor-in-Chief: Wenjian Wang
Abbreviated key title: J. Mod. Mech. Eng. Technol.
ISSN (online): 2409-9848
Access: Open Access
Periodicity: Continous
Publishing Since: 2014
Publisher: Zealpress
Contact: info@zealpress.com
Aim & Scope:
Journal of Modern Mechanical Engineering and Technology is a refereed journal dedicated to the publication of high-quality papers providing the latest and outstanding information in all areas of Mechanical Engineering. It provides the authoritative settings for researchers and scholars worldwide to promote, share, and discuss various new issues and developments in different areas of Mechanical Engineering.
It covers the following areas: 
Mechatronics and Robotics
Structural Analysis
Thermodynamics and Thermo-Science
Design and Drafting
Computer-aided Engineering
Mechanics
Thermal Engineering and Fluids Engineering
Biomechanics
Applied Mathematics and Mechanics
Material Engineering, Composites
Fluid Mechanics
Thermodynamics, Heat Transfer, Energy Conversion
Manufacturing Engineering, Technology, or Processes
Fusion Technology
Theoretical and practice oriented papers in the mode of original articles, reviews and expert opinions are welcomed.